Is it safe to get elective medical procedures?
What about routine screenings?
You've asked, we're answering. In this issue, we're debuting a new segment in which we respond to questions you've sent to our inbox, starting with today's topic: elective medical procedures and screenings. (We are sensitive to the fact that many of you have shared personal details about you and your families—names and email contents will continue to be kept confidential.)
Many physicians and health care organizations responded to the pandemic by canceling non-essential surgeries. Since then, several states have reinstated elective surgeries in hospitals with sustained 14-day downward trends of coronavirus cases at the advice of public health experts. These surgeries still come with risks, so putting off surgeries is a good idea if it's non-essential. However, as the pandemic drags on, many patients are wondering how much longer they should put off surgery, and if or when in the course of the pandemic the risk is worth the payoff.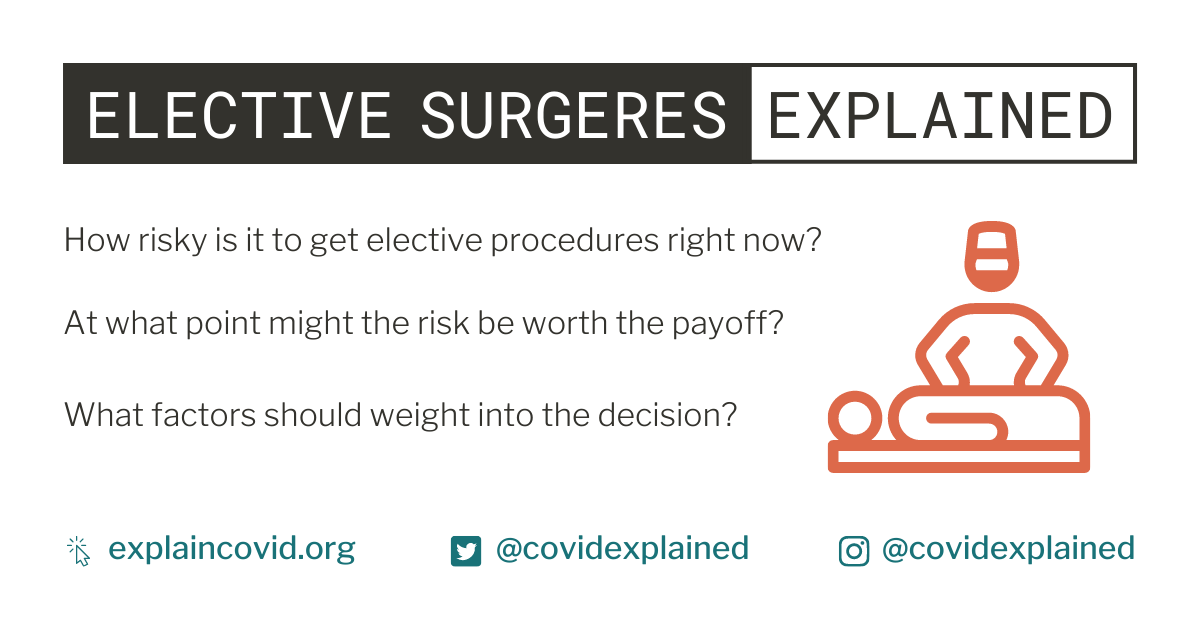 Deciding whether or not to go forward with surgery depends on many variables, all of which contribute to two main questions you should ask: how risky is the surgery, and how much will the procedure improve your quality of life?
The riskiness of the surgery depends on several factors. Rates of COVID-19 cases in your area, precautions taken by the hospital or clinic, visitor policies, and the type of surgery you are receiving are all factors to consider. You should feel comfortable asking your hospital or clinic about the precautions they're taking to make sure that their staff members and patients don't contract the virus. Many medical facilities have information on their website about their policies for testing patients and staffers as well as their disinfectant procedures. You can stay up-to-date on the trend and rate of COVID-19 cases in your area on your state's department of health website. If your area is experiencing an upward trend in COVID-19 cases, consider putting off your surgery.
Surgery can be stressful in normal times, and the additional risk during a pandemic might not be worth the additional anxiety.  Another important factor to consider is if you will need to stay in the hospital post-operation. Many hospitals are limiting visitors, which might mean that you need to spend a few days alone in the hospital for recovery, which can be lonely.
Even if many precautions are taken, all procedures now carry additional risk. Many medical professionals advise not to put yourself at risk if the surgery isn't essential, especially if you have preexisting conditions. Talk to your doctor about any risks associated with putting off surgery, and how essential the surgery is. 
The bottom line: if the procedure isn't especially urgent and you feel that you are part of the higher risk category, consider putting it off. That said, public health officials are worried about the drop off in high-value screening and preventative procedures (e.g. colonoscopies, mammograms, vaccinations, etc.) so we would strongly suggest talking to your doctor about weighing the benefits of these particular procedures (which can generally be done safely now, depending on some of the factors mentioned above).
Please feel free to share your thoughts, questions, and concerns — you can get a hold of us via email, Twitter, Instagram, and the site itself.