How to protest safely
Guidelines on protecting Black communities from both COVID and police violence
As we're sure many of you know, protests have erupted around the US in response to the death of George Floyd, an unarmed Black man who was killed by an on-duty police officer in Minneapolis, Minnesota. Floyd's death comes after the recent deaths of Ahmaud Arbery and Breonna Taylor, who were also Black people murdered by police, as well as a viral video showing a white woman in Central Park calling the police on a Black bird watcher. Floyd, Taylor, and Arbery join a tragically long list of Black people who have been the victims of police murder: Sandra Bland, Michael Brown, Freddie Gray, Eric Garner, Philando Castile, and Anton Sterling, to name a few in a list thousands long.
The necessity to protest against racialized police violence has understandably pushed pandemic concerns to the backseat. However, the unfortunate reality remains that COVID-19 is still very much a threat, and the close contact and the large number of people involved in protesting both increase the risk of spread. This is particularly concerning given data suggesting an overrepresentation of racial and ethnic minorities among patients hospitalized from SARS-CoV-2, including in Minneapolis (the location of George Floyd's death) where protests have been especially intense. For more, see our explainer on the racial disparities in COVID-related hospitalizations and deaths.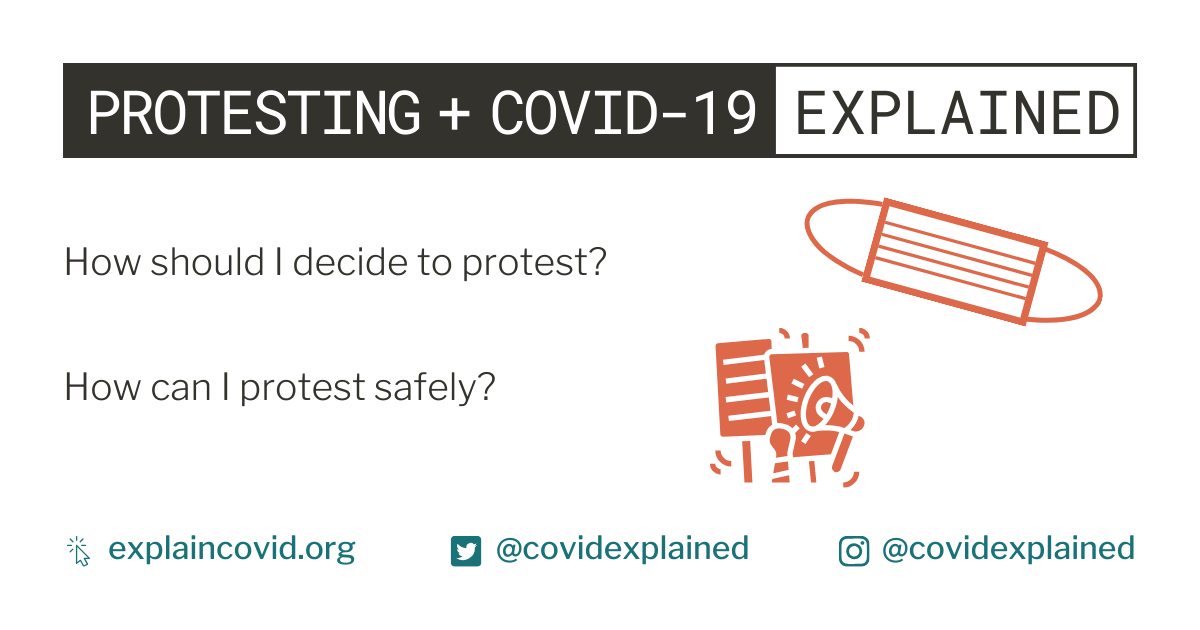 How can we balance the need to advocate for Black lives through protest while recognizing that COVID-19 disproportionately harms Black communities? In an effort to promote safety for Black people — both from police violence and COVID-19 — we offer the following suggestions on how to protest safely: 
When deciding whether to go out and protest, assess your risk and the risk of those you live with or are in close contact with. Do you have pre-existing medical conditions (e.g. immunodeficiency disorders, cardiovascular conditions, diabetes, liver diseases, lung diseases) that would increase the severity of a SARS-CoV-2 infection? Are you in a high-risk age group (according to the CDC, 65 and up)? What about the people you live with? What is the infection rate in your area? Is it increasing? Decreasing? If you want to help but decide it is unsafe for you to protest, consider donating to the organizations listed below. 

Go out prepared. Wearing a mask can protect you and others — it may be literally required by your area, but even if not, the data suggest that you should wear one. This is especially true if you are going to be yelling. Make sure the mask is worn properly — snug over the mouth, nose, and chin. (Please check your local guidelines on the use of masks/face coverings during protests.) Also: bring hand sanitizer. Sanitize your hands frequently, or wash them if you can. 

To the extent possible, continue practicing social distancing measures (i.e. stay at least six feet away from others) while protesting. This may be impossible (that is why you wear a mask) but if you can, do it. 

Though most protests do not turn violent, if they should, these protest safety recommendations should be followed just in case: 

tie up your hair and do not wear jewelry

do not wear contacts, eye makeup, or heavy lotions

do not bring anything you don't want to be arrested with

bring water, energy snacks, cash, legal ID, and if possible, a first-aid kit

know about relevant local medical and legal resources

write down emergency contacts on your arm
This information is also available in this infographic: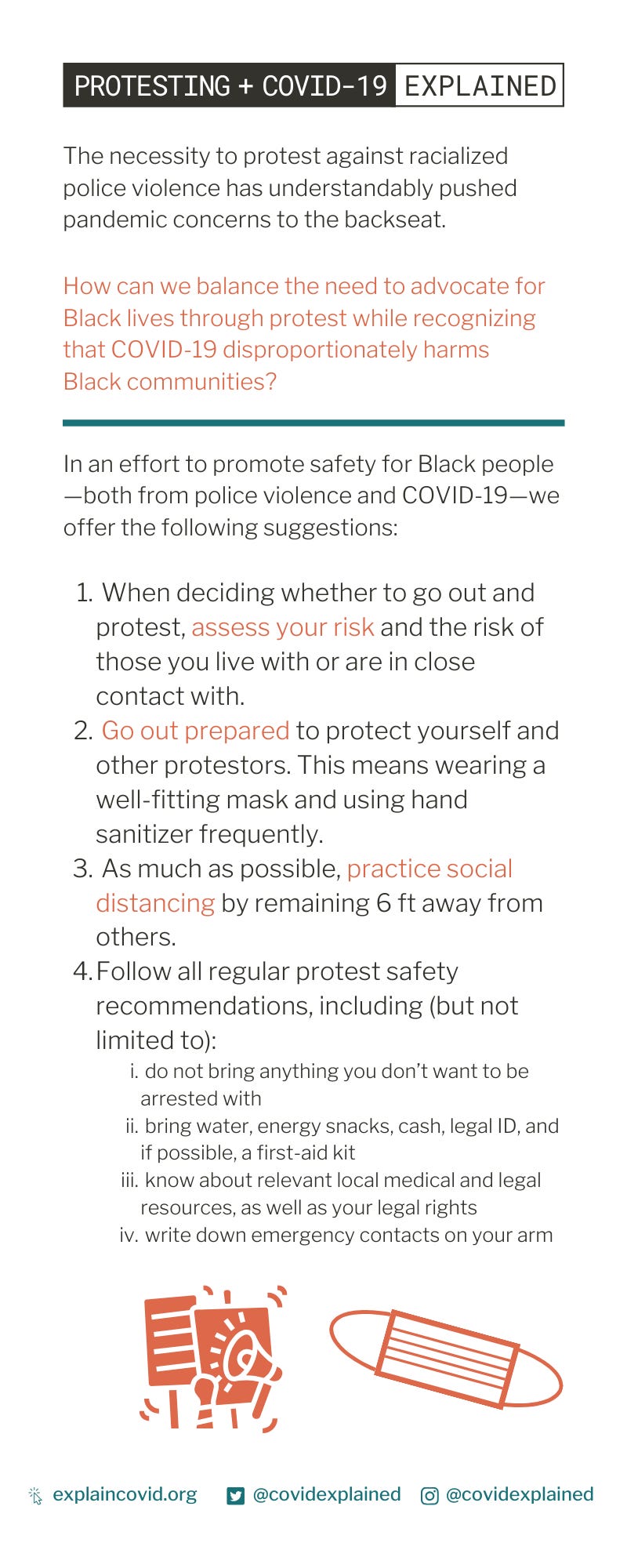 If you are able to give, please consider donating to the following organizations, all working in some capacity to effect change: 
Northstar Health Collective: a Minnesota-based medical organization that has been working to provide support for protests and reduce the incidence of COVID-19 in minority communities

Black Visions Collective: a Minneapolis-based organization aimed at generating awareness about the kinds of issues plaguing Black communities across the Twin Cities metropolitan area

Reclaim the Block: an organization aimed at holistically uplifting marginalized communities in Minneapolis through housing support, violence prevention, youth programs, and emergency mental health response teams

Minnesota Freedom Fund: an organization providing cash bail in disproportionately targeted low-income, minority communities (please note that as of publication, this organization has received an outpouring of support and is now asking donations be directed at some of the other organizations listed here)

Campaign Zero: an organization aimed at calling on local, state, and federal lawmakers to take immediate action to adopt data-driven policy solutions to end racialized police violence and hold police accountable

Data 4 Black Lives: an organization of activists, organizers, and mathematicians committed to the mission of using data science to create concrete and measurable change in the lives of Black people

Your local organization(s) leading the charge against unjust policing practices
You can also share this post and its graphics (including ones designed for Instagram stories, attached below) with anyone seeking resources or guidance about how to help. 
As always, if you have any questions, comments, or concerns, please don't hesitate to contact us via email, Twitter, Instagram, and the site itself.